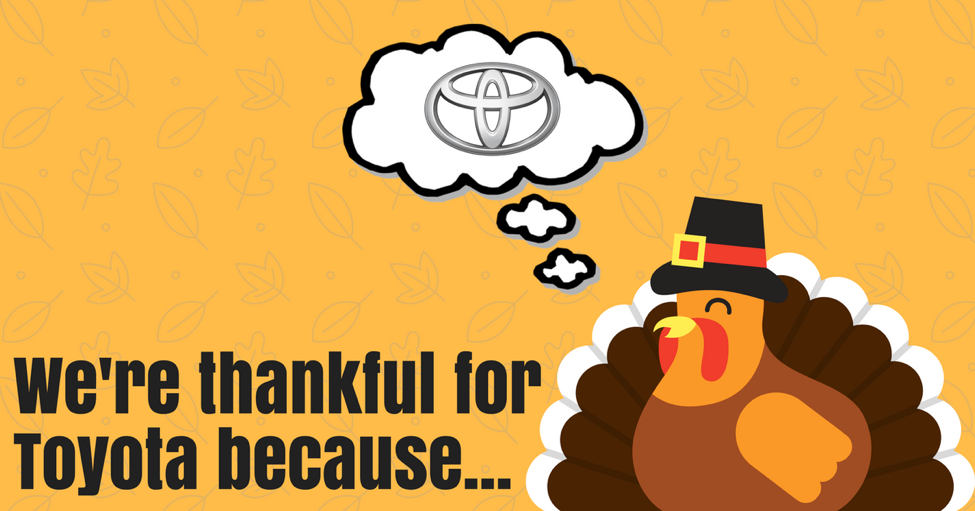 'Tis the season to be thankful and we can't keep our feelings to ourselves any longer. We have to share our admiration for our beloved Toyotas. We've compiled our top eight reasons to be grateful for this adventurous brand.
1. Durability
With the brand's 20-year claim, you'll still find 80 percent of all Toyotas sold within the last two decades on the road today.
2. Adventure
Their tagline is literally, "Let's go places!" Their vehicles are equipped to handle any terrain, weather, and can tow any of your big toys around Albuquerque and across state lines.
3. Residual Value
Toyota has some of the leading vehicles for their residual values, including the Prius family, the 4Runner, and trucks. Leasing a Toyota will keep more money in your pocket, which you can put towards your adventures.
4. Green Vehicles
The Prius family is leading the pack for green technology. Many of their models outside of the Prius are available as a hybrid as well. According to toyota.com, their hybrid vehicles have saved 11,794,335 tons of CO2 from being released into the atmosphere.
5. Quality
Their durability, capability, and value make for one of the most quality made vehicle brands on the road. Quality over quantity, am I right?
6. Top Safety Pick
The Insurance Institute for Highway Safety (IIHS) has continuously chosen Toyota vehicles for their top safety picks. The Yaris, Corolla, and Prius are just a few of their 2017 safety choices. Feeling safe in your vehicle is reason enough to be thankful for this brand.
7. AWD/4WD
Toyota offers more AWD/4WD vehicles than any other brand. Through any climate, terrain, and even getting to work, Toyota will always get you there.
8. Innovation
Toyota changed the roads forever with their groundbreaking Prius model and they haven't slowed down. They lead the industry in efficiency, economy, and quality. Their upcoming revolutionary FT-4X Concept exudes futuristic style and technology.



We are proud to provide our Albuquerque community with this magnificent brand we are so thankful for. We hope our dedication to Toyota and their vehicles shows how highly recommended they are. We want nothing but comfort, reliability, and safety for our customers and you will get that and more in any Toyota model. Show your thanks and treat your loved ones to a reliable Toyota vehicle this holiday season. See our current inventory online, and we hope to see you in-store at 10401 Copper Ave. NE, Albuquerque, NM 87123.