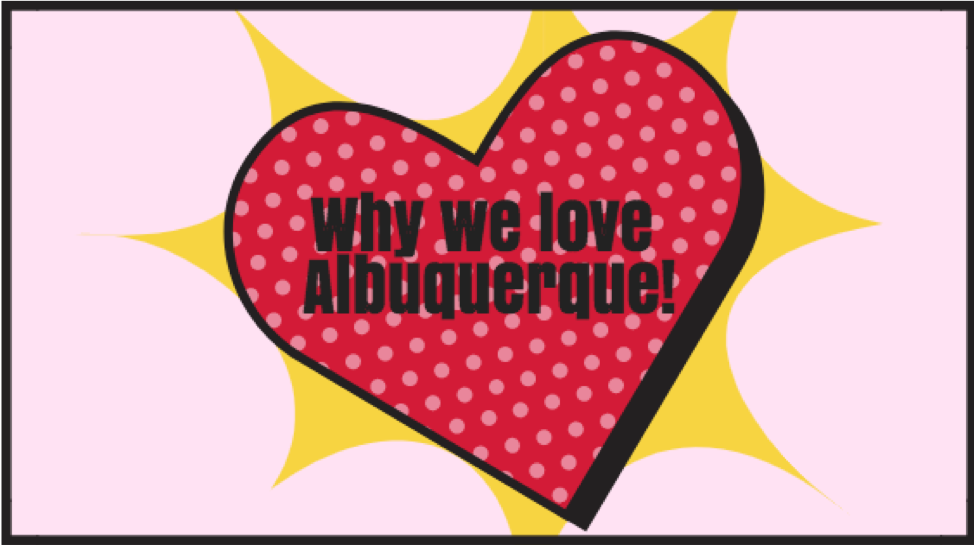 Love is in the air and we're not just talking about your partner. Did you ever think that Valentine's Day can include appreciation for things and places—not just one person? We've got a million reasons to adore our city of Albuquerque this loving season, but we've only got time to share a few below.
The Color
Although our city and state are a bland dessert with endless shades of tan scenery, we make up for it with our colorful décor. Our Native American history has created a foundation for our bright and lively culture. At every restaurant, shop, performance, and most homes, you'll see bright shades of turquoise, yellow, green, red, and more. All colors are symbolic here and represent the way our residents choose to live their lives.
The Food
You won't find better traditional Mexican food anywhere else. Our restaurants and residents use recipes passed down through generations, and our cuisine is more unique than you'll find in other cities in our country. Your stomach will always be full and satisfied while you're dining in Albuquerque.

The Views
Every night as the sun sets on the Sandia Mountains, a watermelon pink hue is cast along the range. This is unlike any other city because this happens daily, regardless of the season or weather patterns. In addition, the skyline during the Albuquerque International Balloon Fiesta has hundreds of colorful hot air balloons take to the sky. The scene during this event is incredible and should be seen at least once in your lifetime.
If you own a Toyota, we know you love your ride. It's hard not to with a dependable brand. Your vehicle is with you every day, sometimes for hours at a time, and we know you want to show it some extra love this Valentine's season. Cupid's Day isn't just for your partner, take the opportunity to have your Toyota serviced. Our current offer includes all factory-recommended inspections, topping off all fluids, and setting pressure for all tires.

Claim this offer online

and bring your ride in during this loving season so we can give it some TLC.