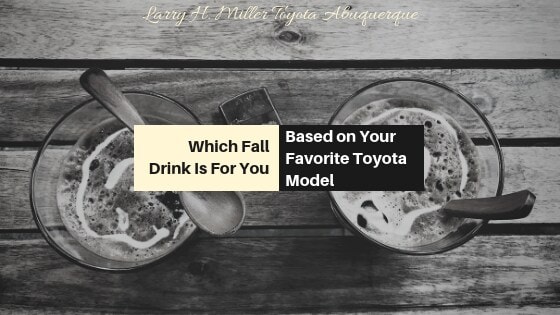 Fall is here, and that means one thing—seasonal beverages are back! Are you a fan of the famous Starbucks PSL or something more classic like a good, old-fashioned hot chocolate? If you're having a tough time deciding on your next drink order, we've got a fool-proof method. Here's which drink you should get based off of whichever sweet Toyota you've got sitting in your parking lot.
If you're driving a Camry to work this fall, we think you should consider drinking a caramel macchiato. Found at many favorite coffee places, this sensational drink is exceptional both iced and hot. Like the Camry, it's elegant yet practical. The caramel macchiato is a beautiful beverage but has the caffeine to get your day going.
If a sporty RAV4 sits in your driveway, treat yourself to a frappucino or frappe. The RAV4 is spunky, tasty, and oh so enjoyable! They come in flavors that will tantalize the taste buds of all consumers young and old and are easy to drink. Like the SUV itself, everybody likes a good frappe!
The Toyota Corolla is one of the most beloved sedans out there. If this darling car sits in your driveway, take a sip of a Pumpkin Spice Latte! Just as the Corolla appeals to basically anyone with great taste, the PSL is a perfect beverage to satiate coffee drinkers as well as anyone who appreciates seasonal bliss.
If the Tacoma is your bliss, so too will be the latte. Like the durable truck, it has the boldness of espresso with the soft edge of hand-frothed milk. It's strong but gentle simultaneously—the perfect complement to your powerful yet comfortable truck!
We happen to have all of these models (and more) at our dealership! Our team will be more than happy to help you decide which drink—and Toyota—is for you. It might help to sit down in a new RAV4 with a frappe so that you can properly visualize and see that this is indeed the right choice for you, both car-wise and beverage-wise. We have some spectacular monthly specials going on that will more than justify sporting your fall drink!