Larry H. Miller Toyota Albuquerque Gives Back
Larry H. Miller Dealerships operates more than 60 dealership locations under 18 automotive brands in seven western states. The group employs nearly 500 individuals in five dealerships in Albuquerque. Larry H. Miller Dealerships has a strong legacy of giving back to communities where it does business. Through its charitable organization, Larry H. Miller Charities, more than $500,000 has been donated to qualified nonprofit organizations throughout Albuquerque since 1996. Toyota Albuquerque is one of New Mexico's premier Toyota dealerships. But we're more than just sellers of fantastic vehicles and providers of outstanding service. Check out some of our projects around our Communities and be sure to trust us for your next car buying or servicing needs. If you would like to inquire more information regarding LHM Charities please contact us at 866-664-0775 or fill out the form below and someone will get back to you.
---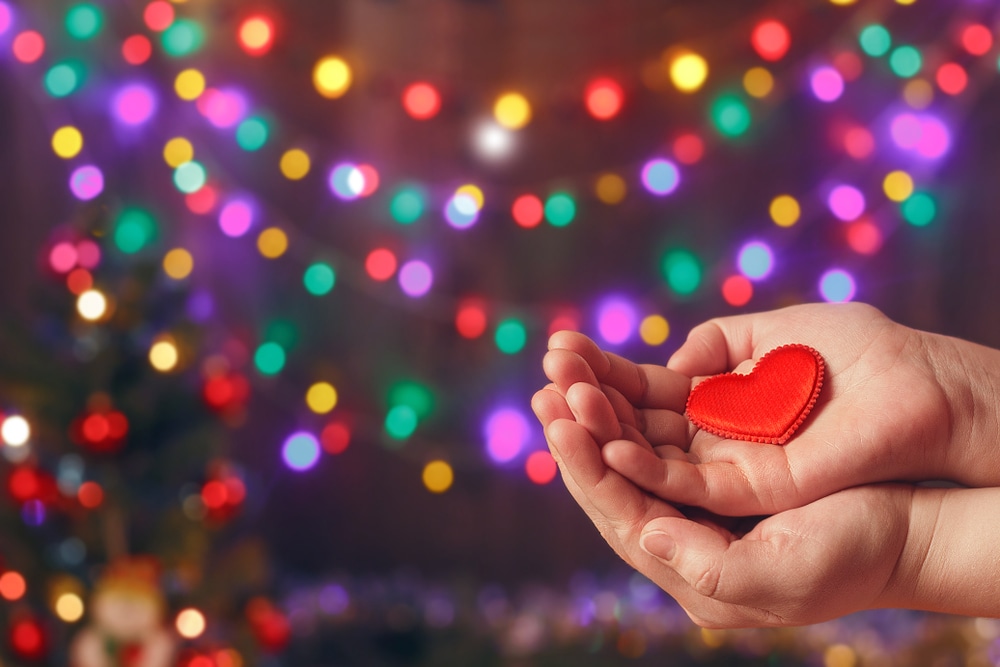 Larry H. Miller Dealerships Spreads Holiday Cheer With $50,000+ in Gifts to Albuquerque Charities
Larry H. Miller Dealerships employees at five Albuquerque locations announced today, December 6th, 2019, a generous plan to spread joy during the holiday season as they present more than $50,000 in donations to eight local charities. Funding will provide cold weather supplies to the homeless, dance programming to disadvantaged youth, iPads for children who are blind or visually impaired, school clothing and shoes to children from low income families, and more. Charities include: New Mexico School for the Blind and Visually Impaired, New Mexico Dream Center, Barrett Foundation, Inc., Assistance League of Albuquerque, Cloud Dancers Therapeutic Horsemanship, Ronald McDonald House Charities of New Mexico and National Dance Institute of New Mexico. "Giving back is at the heart of Larry H. Miller Dealerships. We're excited to recognize these deserving organizations for the great work they do not just during the holiday season but year-round," said Ray Reilly, senior vice president, Larry H. Miller Dealerships.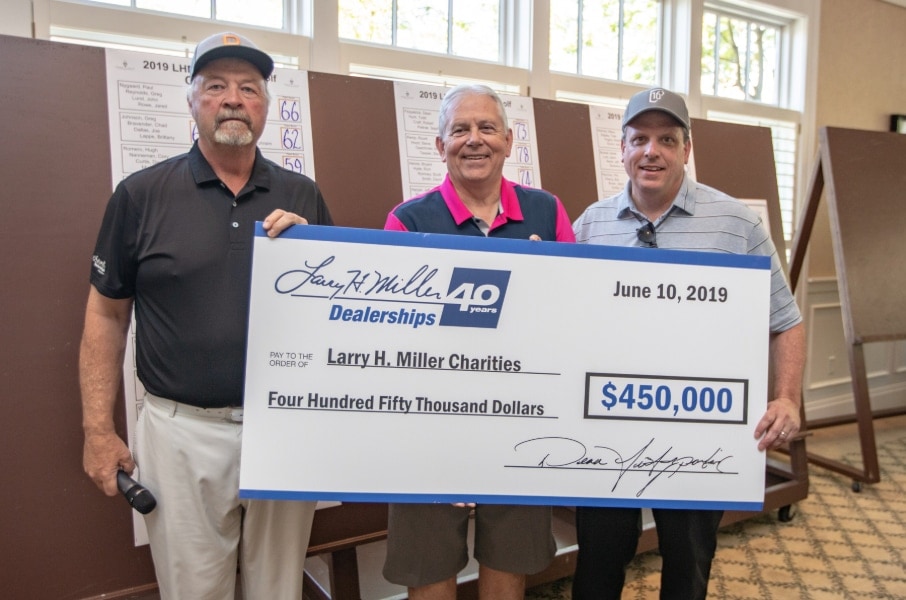 Larry H. Miller Dealerships Raises $450,000 During 8th Annual Golf Classic
The funds raised at the 2019 Golf Classic will be distributed to charities in the seven states where Larry H. Miller Dealerships does business and will focus on programs that serve women and children with an emphasis on health and education," said Jay Francis, executive vice president, corporate affairs & Miller Family Philanthropy. "These funds alone will help more than 60 nonprofit organizations, and when you add in employee and business contributions, we will contribute to nearly 100 charitable groups.
Larry H. Miller Dealerships Sells Its Two Millionth Car
Larry H. Miller Dealerships reached a milestone on Monday, January 28, 2019, when it sold its two millionth vehicle. Customers Don and Janine Edwards purchased a 2019 Honda Pilot at Larry H. Miller Honda Murray, marking a company milestone nearly 40 years in the making.
"In 1979 when we bought our first dealership, Larry and I could not have imagined selling 2,000,000 cars, but today we are celebrating that milestone," said Gail Miller. "We are grateful for the growth and success of our company and recognize the hard work and dedication of our employees and the continued support from our customers and the communities where we do business."
University of New Mexico (UNM) Cancer Center and the Masonic School for Children with Learning Disabilities
ALBUQUERQUE (January 9, 2019) - Employees from Larry H. Miller Toyota Albuquerque will present donations to the University of New Mexico (UNM) Cancer Center and the Masonic School for Children with Learning Disabilities on Thursday, January 10.
The $10,000 donation to the UNM Cancer Center will help the organization launch their Adolescent & Young Adult (AYA) Cancer Survivorship and Patient Care programs. AYA cancers impact patients between 15 to 18 years old. According to the foundation, this age group is affected by distinct types of cancer, and face some of the poorest overall survival rates in the nation and lowest improvement in survival over the past 20-30 years. The program will include workshops to educate parents and families about the unique aspects of AYA cancer treatment.
The Masonic School for Children with Learning Disabilities will use their $5,000 grant towards construction costs, classroom furnishings and materials for an additional classroom at the school, which provides tutoring for children ages 8-18 with dyslexia. This will help serve the 15 children currently on the school's waiting list.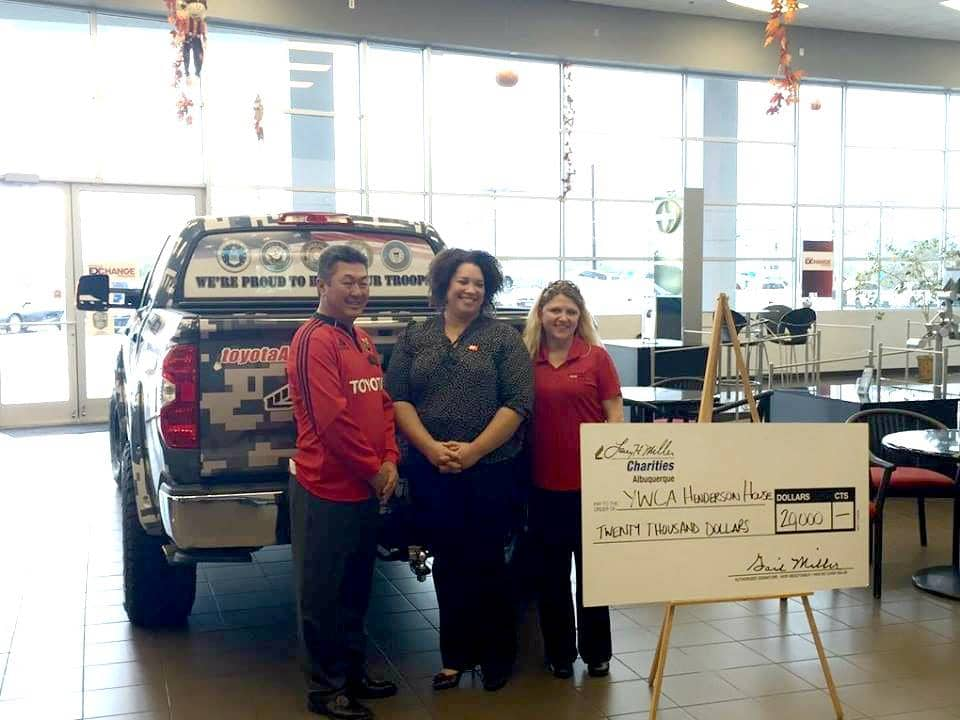 ALBUQUERQUE, NM - Our donation went to the YWCA's Henderson House, a transitional living facility for homeless women veterans and their children in 2015. The Henderson House provides shelter for women veterans and their children, and is designed to be a safe place where women can pursue education, life skills and job training.
According to our general manager, Ernie Riach, "The Henderson House serves those who serve for our country. They help women veterans, and their children, who have fallen on hard times to get back on their feet and readjust to life following military service. This program is a natural fit with our company's charitable efforts which focus on supporting organizations that serve women and children in the areas of education and health."
Amy Whitfield, president and CEO of YWCA New Mexico said, "These dollars are very special to the YWCA Henderson House because not only is it a monetary donation, but the work that Larry H. Miller Toyota staff put into securing the matching donation shows a strong commitment to the female veterans in our community and assures that they receive the services they need to be self sufficient."