Toyota Tires in Albuquerque
At Larry H. Miller Toyota of Albuquerque we want to remind our customers that although tires and cars have reached such a high degree of development, the tires on your Toyota are the only point of contact your vehicle has with the road, as they bear the vehicle load and serve as the main shock absorber. 
To ensure the best vehicle performance and safety it is important to ensure that your tires are maintained and cared for. Regular maintenance will improve your Toyota's gas mileage, extend the life of your tires, prevent excessive or uneven tire wear, and give you peace of mind.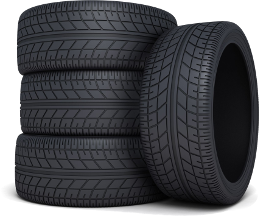 Bring your Toyota into the Service Department at Toyota of Albuquerque and our Toyota-certified technicians can help you keep your tires in the best working order. They will ensure that your tires are properly inflated, which will help improve your gas mileage on New Mexico roads, rotate your tires to make sure that the tread on your tires wears evenly, lengthening their life and improving their performance, and they can balance your wheels, ensuring that your Toyota is aligned properly.
        Do you NOT know when it's time to stop by?
        Is your car out of alignment?
        Do your wheels need to be balanced?
        Should you replace your tires?
        Do you need a rotation?
If you answered yes to any of these questions, you should visit the Toyota-certified technicians at Larry H Miller Toyota today!
---